"Circles within circles; so little we know; seems no sooner arrive, 'tis time we must go."
Bertha Guldborg, whom I had never met, brought me the clipping from the November 4th edition of the Miles City Star. Rachel's death had not made banner headlines, but was front page news with a caption that read:

Strangulation investigated

By Star Staff Writer

The death of a Miles City woman reported to authorities Tuesday night is being investigated as a possible homicide.

The death is unrelated to the shooting death of another Miles City woman shortly after midnight Tuesday.

Rachel Bonham, 34, 925 Gordon Ave. died from strang- ulation, according to Miles City Police Chief Wade Schmidt.

"We will investigate it as a homicide until all the facts and evidence are gathered and the investigation concluded " Schmidt said of Bonham's death.

The case is being investigated by police, the Custer County Sheriff's Department and the Custer County Attor- ney's office.

Schmidt said Rachel Bonham's husband, Ronnie, came to the police department at 9:38 p.m. Tuesday and reported he had discovered his wife's body at the residence.

A nylon-type strap was used in the strangulation, authorities said.

Time of death has not yet been determined. An autopsy will be performed by a state forensic pathologists in Billings Wednesday afternoon, Undersheriff Don Neese said. "We should know something this evening and be able to answer a lot of questions," he said.

Authorities said Rachel Bonham worked as a nurse.

Inquest likely in strangulation.
By Star Staff Writer
A coroner's inquest will probably be called to look into the death of 34-year-old Rachel Bonham, Deputy Custer County, Garry Bunke said Thursday morning.
He said the preliminary autopsy finding is death by hanging.
Police said Bonham's husband, Ronnie, came to the police department at 9:38 p.m. Tuesday and reported he had discovered his wife's body at the couple's residence at 925 Gordon Ave.
When police arrived, Mrs. Bonham's body was on the floor of the living room, authorities said.
Investigation is continuing, including following up on interviews with friends and acqaintances of Mrs. Bonham.
The autopsy was conducted Wednesday by a state forensic pathologist in Billings.
A coroner's jury determines such things as when a where a person died, by what means, whether he or she was killed or died by criminal means, and, if so, who was responsible.
The jury does not determine guilt or innocent and its decision is advisory only.

---
MORE SCRIBLINGS
IS EVERYONE IN LAW ENFORCEMENT TOO BUSY BUILDING THEIR OWN

REPUTATIONS?

Thirteen Techniques for Truth Suppression

by David Martin

When the government lacks an effective, fact-based defense, other techniques must be employed. The success of these techniques depends heavily upon a cooperative, compliant press and a mere token opposition party.

1. Dummy up. If it's not reported, if it's not news, it didn't happen.

2. Wax indignant. This is also known as the "How dare you?" gambit.

3. Characterize the charges as "rumors" or, better yet, "wild rumors". If, in spite of the news blackout, the public is still able to learn about the suspicious facts, it can only be through "rumors".

4. Knock down straw men. Deal only with the weakest aspect of the weakest charges. Even better, create your own straw men. Make up wild rumors and give them lead play when you appear to debunk all the charges, real and fanciful alike.

5. Call the skeptics and victims names like "conspiracy theorist", "nut", "ranter", "kook", "crackpot", and, of course, "rumor monger". You must then carefully avoid fair and open debate with any of the people you have thus maligned.

6. Impugn motives. Attempt to marginalize the critics, including families of the victims, by suggesting that they not really interested in the truth but are simply pursuing a partisan political agenda or are out to make money.

7. Invoke authority. Here the controlled press and the sham opposition can be very useful.

8. Dismiss the charges as "old news".

9. Come half-clean. This is also known as "confession and avoidance" or "taking the limited hang-out route". This way, you create the impression of candor and honesty while you admit only to relatively harmless, less-than-criminal "mistakes". This stratagem often requires the embrace of a fall-back position quite different from the one originally taken.

10. Characterize the crimes as impossibly complex and the truth as ultimately unknowable.

11. Reason backward, using the deductive method with a vengeance. With thoroughly rigorous deduction, troublesome evidence is irrelevant.

12. Require the skeptics and victims to solve the crime completely.

13. Change the subject. This technique includes creating and/or publicizing distractions.
----------------------------------------------------------------------


CRIME CLOCK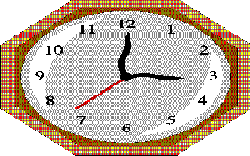 A WOMAN IS BATTERED EVERY 15 SECONDS.
1.3 ADULT WOMEN ARE RAPED EVERY MINUTE.
45 AMERICANS WERE KILLED IN ALCOHOL RELATED TRAFFIC CRASHES EACH DAY IN 1994.
APPROXIMATELY SIX CHILDREN ARE REPORTED ABUSED AND NEGLECTED IN AMERICA EVERY MINUTE.
THERE IS A MURDER EVERY 24 MINUTES.
THERE IS A ROBBERY EVERY 51 SECONDS.
THERE IS A VIOLENT CRIME EVERY 18 SECONDS.
THERE IS AN AGGRAVATED ASSAULT EVERY 29 SECONDS.
THERE ARE 20 EMPLOYEES MURDERED AND 18,000 ASSAULTED ON THE JOB EVERY WEEK.

SOMEWHERE OUT THERE !

The case that is

By Tom Burkett

"Through an infirmity of our natures, we suppose a case, and put ourselves into it, and hence are in two cases at the same time, and it is doubly difficult to get out. In sane moments we regard only the facts, the case that is." Thoreau

A recent story in The Fairfax (Va.) Journal, attributes the following statement to trial lawyer Peter Greenspun: "some police investigators excel in making the facts fit the crime. They develop a theory about a crime with an eye toward finding details that support their hypothesis."

Many law-enforcement investigators are addicted to the method described above. It is the deductive method of reasoning where the person has a premise in mind then interprets individual facts in light of that premise. These investigators look at a crime scene and choose a scenario they think will fit. Thereafter, the investigation focuses on any information that could make that chosen scenario work. Facts-- physical evidence and testimony--that do not fit the scenario are ignored or explained away.

Common sense would suggest that the opposite method--the inductive method--should be used in an investigation. In this method, individual facts are collected until a hypothesis that fits these facts can be created. This hypothesis is then tested with new facts. If the new facts fit, the hypothesis stands, if not, a new hypothesis is created to include ALL the individual facts.

Collecting as much evidence as possible, THEN creating a scenario and testing that scenario with new evidence seems to be the proper way to conduct an investigation. So why do so many investigators choose to create scenarios first, then force-fit the evidence or ignore evidence that can't be made to fit? There are several reasons investigators might work in this seemingly backwards fashion.

Sometimes it is just the mind of a seasoned investigator at work--he examines a scene, and what he sees and hears reminds him of many other cases. He assumes this case is like them. Often he is right, sometimes he isn't. Other reasons are not as legitimate.

Sometimes political and economic factors make the adoption of a particular scenario attractive--the violent crime rate must be kept down, the costs of investigating and prosecuting a difficult case are too high.

A third class of motives is more sinister. Sometimes the tenacious holding to a scenario that is contradicted by individual facts is to protect an agency or a person involved.

In 1989 an explosion in a gun turret aboard the U.S.S. Iowa killed 47 sailors. The Naval investigators rapidly constructed a scenario in which a sailor was alleged to have blown up the turret in suicidal anger with his homosexual lover. When victims' families and others questioned this scenario, the Navy was was forced to back down. A scenario was constructed which actually fit the known facts--the explosion was the result of improper handling of the volatile black powder charges. The first investigation had created a scenario that protected the Navy from responsibility while placing the blame on a sailor who could no longer defend himself.

Investigators are under a moral obligation to stick to the facts, the case that is, rather than to create scenarios and make the facts fit. It is clear that often investigators do not feel that moral obligation, and there is no mechanism in place to enable citizens to influence a police department or a federal agency to investigate thoroughly. That is why legislation such as that recommended in the "PACCage" is needed. Investigators must be accountable for their investigations.

They must attend to the facts, the case that is.

The "PACCage" can be found at: PACCage

There Can Never Be Change Without Numbers!
Help PACC Grow.

When Rachel was found in the floor of her living room at 925 Gordon Avenue, Miles City, Montana on November 3, 1992 strangled, medical help was never called. The undersheriff, Don Neese, became the medic, the jury, and the judge. From the time the authorities arrived at the crime scene that evening the mistakes kept piling up, and a cloak of secrecy fell over the investigation as officers squabbled, hid things, and contaminated evidence. Residents stood in awe behind crime scene tape-not to ever be heard.

What VIP is responsible for Ronnie Loyal Bonham's protection?

STOCK and BOND TRADERS
This program link below provides traders with an overview of theoretical ranges for the Dow Jones Industrials, support and resistence levels for the Standard & Poors 500 Futures and DJIA.
Market Page Systems, Inc. will also provide recommended long and short entrance levels in the S & P, Dow, and other Indices as well as individual stocks.The Market Page will provide the future outlook for Interest Rates, News Events and Reports that may impact the market.
The author of the Market Page is a professional trader with seventeen years experience, 14 years professionally, trading Index Futures and Options, and Program related stratagies. He is a third party contributor on the Bloomberg Live

REAL TIME

MEMORIAL FOR ALL VICTIMS OF UNSOLVED MURDERS